VIP MESSAGES
A message from HRH the Prince Of Wales
"As a long standing admirer of the marvellous work undertaken by Lady Rothermere, I was delighted to hear that her 'Lady R Foundation' would be mounting this splendid concert at the Sorokdo National Park.
In doing so, the Foundation is drawing attention to the fact that there are still many people suffering with Hansen's disease in today's world and challenging the fear and prejudice that patients too often have to face.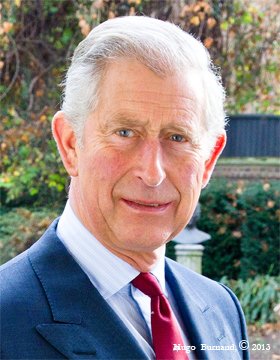 Music is often very important in the lives of those patients, helping them to overcome the pain and isolation that so frequently accompany the disease, so the use of music to highlight their plight is particularly poignant. I was especially pleased, as the orchestra's proud Patron since 1980, that the Philharmonia were to be involved under the baton of Maestro Ashkenazy in this first and very important project for the new Foundation.
I am only sorry that I cannot be with you for what promises to be a moving and inspiring evening of music.
HRH The Prince of Wales
Charles"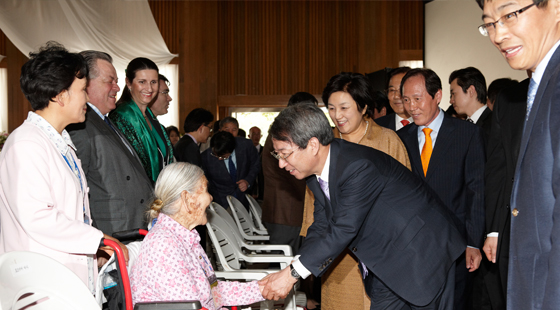 A message from H.E. DR Chung Un-Chan on the day of the concert at Sorokdo
"We are gathered here today at Sorokdo which is as beautiful as its name 'little deer'. It is a meaningful event for us to dedicate hope through music to people suffering from Hansen's disease. I want to deeply thank Lady Rothermere and the warm-hearted people who made today's event happen.
Also, I appreciate all the supporters and volunteers for being great friends to the Hansen's disease patients. Your hard work is much appreciated. Sharing and caring is the invaluable seed to grow a community filled with hope.
The stage became more meaningful since British Philharmonia Orchestra and Maestro Vladimir Askenazy, a world music master and Korean national singer Mr Cho Yong-Pil are performing together. The beautiful hearts of all participants are deeply touching everyone's mind. Ever since I read 'Your Heaven' by Mr Lee Cheong-Joon, I always wanted to visit you. I know I should have and at last I am here!
Hansen's people's sorrow and resentment is all melted in Sorokdo. I understand that the greater suffering that they experienced stems from the prejudice of society, as opposed to the illness itself. Their sufferings in the last 100 years could not possibly be understood fully.
The government is pursuing memorial projects for Hansen's patients whose human rights have been violated and also establishing a special law to support their living. These projects are continuously supplemented. Above the government's effort, the most important thing is the love from everyone.
I hope the people of the nation show greater interest and support to Hansen's disease patients. As the lyric from Dr. Cho Young-Pil's song 'My Dear Friend' says; I wish we share sorrow, joy and lonesome with them like friends would do.
I believe this concert will significantly turn around our prejudices of the people suffering from Hansen's disease. Furthermore, I hope this concert will function as a bridge of love and friendship by connecting the citizens of the world just like the Sorok-bridge connecting the mainland and Sorokdo.
Thank you again for arranging this concert of dreams and love."
A message from Dr Park, Hyung-Chul; Director, National Sorokdo Hospital
"With the cheerful musical news from London, Sorokdo is filled with exuberance and happiness. It almost feels like we are one step closer to Spring hearing that the Philharmonia Orchestra with Vladimir Ashkenazy is going to give us a wonderful concert this coming Spring.
The Philharmonia Orchestra is one of the best orchestras in the world, performing with famous conductors and musicians by contributing to the world, their work of art. I think that this Sorokdo concert will be another monumental achievement of the orchestra. On behalf of the people in Sorokdo, I express my deepest gratitude and respect towards The Lady R Foundation for their huge effort to make this event possible.
Since 2004 Lady Rothermere has visited Sorokdo many times, and greatly supported the National Sorokdo Hospital and has given us endless caring love. Lady Rothermere is also very passionate about Hansen's people all over the world and she is involved in many charitable works such as helping women and children in poverty, and encouraging Korean musicians to perform outside of Korea. Lady Rothermere's devotion to make our country grow bigger will always be remembered in our hearts.
I wish this special event will give comfort to the people in Sorokdo who have suffered enormously from their painful past. Furthermore, I hope it will be a starting point for the inclusion of all the outcasts in the society by sharing beautiful music as well as our pain and joy."
A message from David Whelton; Managing Director, Philarmonia Orchestra
"In May 2010 the Philharmonia Orchestra will return to Korea for the first time in fifteen years.
On behalf of the Philharmonia Orchestra I would like to congratulate the Dowager Viscountess Rothermere and the Trustees of the Lady R Foundation on their vision and enterprise in inviting the Philharmonia Orchestra under the direction of Maestro Vladimir Askenazy to perform at Sorokdo.
We know that music plays an incredibly important role in the lives of the patients in Sorokdo. It is our privilege to bring them one of the most powerful and moving works ever written; Beethoven's Fifth Symphony.
Great music has the power to transform all our lives and never more so than to individuals experiencing mental and physical suffering. We hope that this concert will also serve to raise awareness of the existence of Hansen's Disease as well as bringing much pleasure to all the residents of Sorokdo."
A message from the Dowager Viscountess Rothermere on Sorokdo
"For the past six years, I have been visiting Sorokdo to spend time with the patients, staff and volunteers.
I now support the Sorokdo National Hospital which is run by the Government of the Republic of Korea. After seeing, first-hand, people living in a very isolated place, and usually with the loss of touch and eyesight, along with their more obvious physical suffering, I realised that music plays such a huge and important role in the patients' lives.
During my time there, the sound of the patients singing hymns or playing the harmonica, could be heard down the halls of the hospital. Music helps them to forget their mental and physical pain, even for a short period of time.
My first introduction to Hansen's Disease (leprosy) was when I came across the great work of Saint Damien of Molokai, who was canonized at the Vatican in Rome in 2009. Saint Damien was a 19th century Roman Catholic Priest who dedicated his adult life to helping and supporting Hansen's patients on Molokai Island in Hawaii. After learning a great deal about him and his work, I decided to try to follow his path and do what I could, in my own small way, to help Hansen's patients.
I began doing volunteer work for Hansen's patients and learning more about them and their lives. Sadly I discovered there are still many patients in my own country, Korea, especially on Sorok Island (Sorokdo) in South Korea. This island has been a much ignored 'leprosy colony' since 1916, through enforced segregation by the ruling Japanese at that time.
Only in 2009 did the first Korean Prime Minister, Dr. Han, Seung-Soo visit Sorokdo where he gave a heartfelt apology on behalf of the Government of the Republic of Korea, to the people of Sorokdo.
I am thrilled with the accomplishment of this unique and important concert, which brought joy to the residents of Sorokdo. I only hope that this is just the beginning of the good works we intend to accomplish in the coming years.
Please enjoy the story of this project and, hopefully, be a part of the next.
Best wishes,
The Dowager Viscountess Rothermere